Casper aviation platoon Casper Platoon Story

Caspers in the News
By Ned Costa, Casper Crew Chief

12 Caspers Receive Honors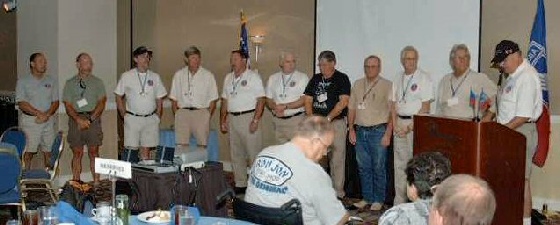 LAS VEGAS, NV (2006) - During a special ceremony at our reunion luncheon, eleven Caspers were recognized for being wounded in combat while serving in Republic of Vietnam. Each Casper was presented with a mini Purple Heart lapel pin. Not shown in the photo above was Joe Jones who was presented his award at the reunion banquet.
(L-R) Randy Plese, John Ackleson, Bill Nottingham, Jim Revoir, Chuck Merkel, Walt Henderson, Buddy King, Dale Birney, Jerry Terry, Steve Greene & Ned Costa. (photo below) Joe Jones.
The Purple Heart Medal, the nation's oldest military decoration and is awarded to members of the armed forces who are wounded in combat by an instrument of war by the enemy. During the Vietnam War, there were a total of 303,704 GIs Wounded in Action.
You can see the complete list of the 51 Caspers who were wounded in action by clicking here: Wounded.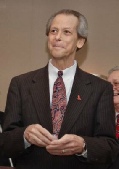 This site was last updated: 2/15/15
HOME PAGE
BACK TO THE STORY INDEX