Casper In The West Wing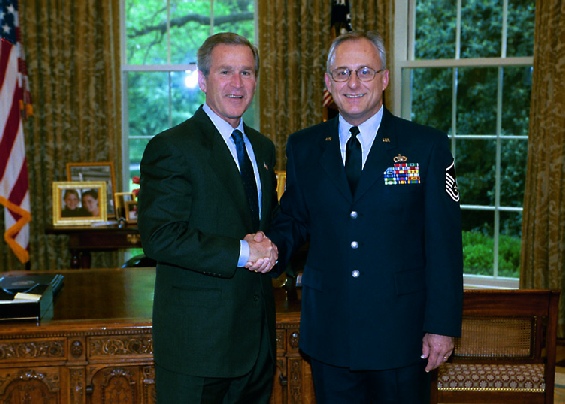 Washington, D.C. (2006) - Bob Thackston, Casper Avionics Mechanic at LZ English in 1970-71, put on a uniform again after 20 years, joining the WA Air National Guard at age 43. He worked his way up to Visual Information Manager at Fairchild AFB in Spokane, WA and managed a team of photographers, videographers and graphic designers. After working for a large studio in North Hollywood for 10 years, Bob and his family started over in Northern Idaho and spent almost 25 years building a successful graphic design business.
When 911 hit, Bob was activated and worked with an Air Force Combat Visual Information shop for 6 months, but has spent almost a year out of the last 3 years working for the White House Communications Agency. Most recently in White House TV, assigned to President Bush as one of his videographers. His duty was to video all official Presidential events and trips. Bob documented the announcement of war and events all over the country, routinely traveling in motorcades, on the helicopters and on Air Force One. In his last month of service, Bob was granted this official departure photo opportunity with President Bush at the White House.
(Photo) President Bush and Bob Thacktson at the White House 2005
Bob Thackston: btgraphics@msn.com