Casper aviation platoon Casper Platoon Story

Caspers in the News
By Ned Costa, Casper Crew Chief

They "Made A Difference" This Thanksgiving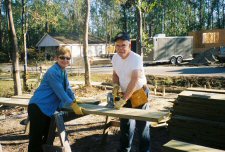 SLIDELL, LA (2005) - Walt and Kathy Henderson spent the week of Thanksgiving helping to build much needed homes for the Habitat for Humanity "Operation Home Delivery" in Slidell, Louisiana. Among thousands of volunteers, they worked together to help restore housing to the displaced families affected by Hurricanes Katrina and Rita. The area where Walt & Kathy were assigned is located on the north side of Lake Ponchatrain.
During the storms, this area got hit with a 30 foot wall of water, the surge carried 6 miles inland before it was over. The area where they were building (left photo) had 4 feet of water during the hurricane and is about 2 miles from the lake.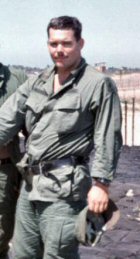 Walt was a Casper Pilot in 1968 and served at LZ English, Bong Son. He is also a CAPO past President.
Walt Henderson: wahendx1@verizon.net
This site was last updated: 2/15/15
HOME PAGE
BACK TO THE STORY INDEX