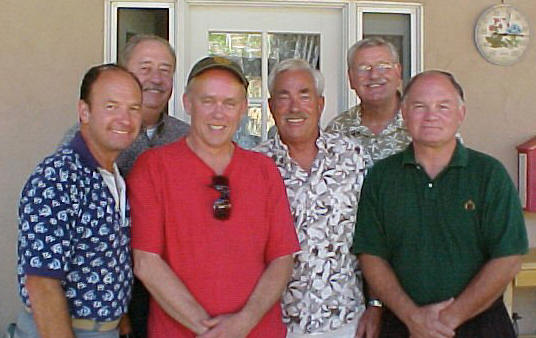 California Bar-B-Que
EL CAJON, CA (2003) - On his return trip back from Alaska, Casper Ken Thomas stopped by Randy Plese's house in California near San Diego for a few more days of R & R before heading home to Colorado. Great excuse for another Casper Get-together and Bar-B-Que. All present were: Randy Plese, Jim Boswell, Ed Liptrap, Phil Johnson, Ned Costa & Ken Thomas.
Randy and his wife have a beautiful home in El Cajon, just outside of San Diego. It wasn't too long after our get together that California suffered many great losses as a result of the recent wild fires. The photos below show just how close the fires came to Randy's home.
The photo below shows a view from his patio and below is looking down at his backyard. Although Randy's home escaped major damage, it was unfortunate that three of his neighbors lost their homes to the fire.
Randy Plese: rplese@cox.net
Jim Bosswell: DAT
Ed Liptrap: edliptrap@gmail.com
Phil Johnson: casperpgj@yahoo.com
Ned Costa: NCHuey721@aol.com
Ken Thomas: argo555@bresnan.net