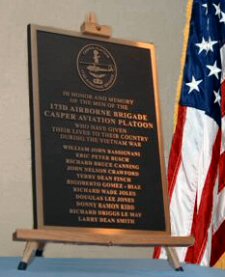 Honoring Our Friends
LAS VEGAS, NV (Jun 2006) - Special CAPO donations this year made it possible for CAPO to purchase this beautiful bronze plaque in memory of our fallen heroes who were Killed in Action while proudly serving our country.
The dedication was made at our reunion luncheon in Las Vegas where the plaque was displayed for all to view. Below the Casper emblem it reads: "In Honor And Memory Of The Men Of The 173D Airborne Brigade Casper Aviation Platoon Who Have Given Their Lives To Their Country During The Vietnam War."
Listed are the Casper Pilots, Crew Chiefs, Door Gunners and Mechanics who paid the ultimate price for defending the freedom that we and our families enjoy today. They are: William Bassignani, Eric Busch, Richard Canning, John Crawford, Terry Finch, Roberto Gomez-Diaz, Richard Joles, Douglas Jones, Donny Kidd, Richard Le May and Larry Smith.
This memorial plaque will attend all future Casper reunions honoring our friends.
For more information about the 11 Caspers who were KIA can be found on our website. Also posted are photos and the video of the Casper Remembrance Ceremony in Washington, DC in 2005. Please click here: Memorial.