Casper aviation platoon Casper Platoon Story

Caspers in the News
By Ned Costa, Casper Crew Chief

No Horsing Around Here!
Reno, NV (2008) - Casper Pilot Don Charlton standing along side with the Wild Mustangs next to his home.
Young Mustang's come down to visit every October thru the first week in April. Food is scarce in this area, so Don and his wife Shari and other neighbors feed them until they leave. Don will feed the horses and burros a bundle of hay and alfalfa every Monday, Tuesday & Saturday morning.
Don Charlton was a Casper Aircraft Commander, and was also assigned to and flew the Commanding General of the 173d Airborne Brigade, Major General Hugh S. Cunningham (Skyhawk).
Don served at LZ English, Bong Son from 5/69 - 5/70. He was also Co-Founder and a Past President of the Casper Aviation Platoon Organization (CAPO).
Don Charlton: DAT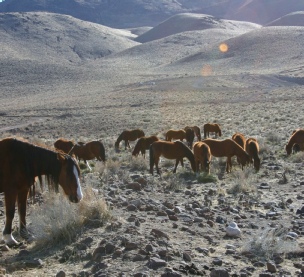 Mustangs were introduced to the Nevada region by the Spanish conquistadors in the early sixteenth century. The name mustang is derived from the Spanish word mestengo, meaning wild or stray animal. Sounds a lot like a Casper!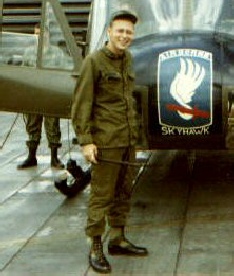 This site was last updated: 2/15/15
HOME PAGE
BACK TO THE STORY INDEX