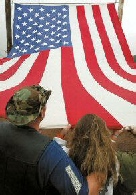 Vietnam Veterans Meet Down in Kokomo
KOKOMO, IN (2005) - No, not in the Florida Keys like the Beach Boys sing in their song Kokomo, but rather in Kokomo, Indiana where the Howard County Vietnam Veterans Organization holds their reunion each year in September. This annual gathering meets on a 31 acre campsite located smack in the middle of a cornfield just outside the city of Kokomo. Approximately 6,000 people attended this event from all over the country.
The traditional flag-raising ceremony was met with cheers from the thousands in attendance this year as the reunion started. Among the veterans were former Casper Crew Chief & Door Gunner: Ray French and Jerry Hollis. The two have attended this event several times before and enjoy the camaraderie. However, this year was an added treat for them when they met several guys from the "Herd" and spent time talking about different missions, places and things. According to Ray and Jerry, there was a large turnout of 173d Airborne Brigade veterans at this years reunion.
(above) Jerry Hollis, Ray French & fellow Sky Soldier Bob Muhlhauser. Pictured to the right are all of the 173d Airborne Brigade Veterans in attendance.
Jerry Hollis: jlhollis60@yahoo.com
Ray French: raythom62@twc.com