Vietnam Veterans in Canada Honored For Their Service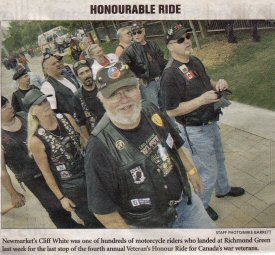 NEWMARKET, CAN (2006) - The caption from this local Canadian newspaper reads: "Newmarket's Cliff White was one of hundreds of motorcycle riders who landed at Richmond Green last week for the last stop of the fourth annual Veterans Honour Ride for Canada's war veterans."
The money raised from this ride is used for the VHRF Veteran's "Grant a Wish Program" that was started four years ago. Held in conjunction with area Canadian hospitals, this program helps in making Veteran's wishes come true in their twilight hours.
Cliff White was a Casper Pilot stationed at LZ English from September to December 1968. He was medivaced home to recover from wounds he received after his helicopter was shot down on December 11, 1968.
Cliff later returned to Vietnam and completed a second tour as a pilot in the 61st Assault Helicopter Company, Lucky Star.
Cliff White: lucky26@rogers.com