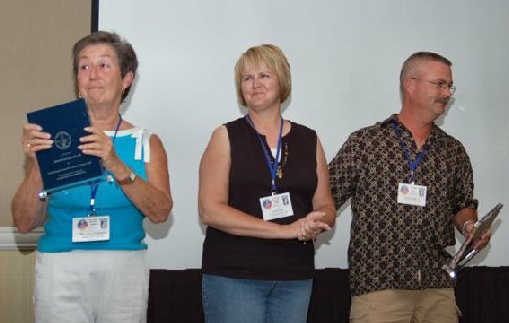 Gold Star Family Members Named Honorary Caspers
LAS VEGAS, NV (2006) - During a special ceremony held at our reunion banquet, Mary Ann Bassignani and Donny Kidd, Jr. were named as Honorary CAPO Members. Presenting them with the honors were former Casper Commanding Officers Jerry Terry and Richard Head. Donny's wife Leslie was also present during the ceremony.
This decision was made by a unanimous vote among the CAPO members present at the business meeting in Las Vegas. Both families were also presented with a plaque at our luncheon expressing our love and respect towards them as we welcomed them into our Casper family.
Donny Kidd was a Casper Pilot and was KIA on March 4, 1968.
Bill Bassignani was also a Casper Pilot and was KIA on August 8, 1969.
Both men served at LZ English, Bong Son and were loved by many fellow Caspers and are still thought of today.
View Casper Platoon Memorial Web Page at: Memorial
For more information about Casper Gold Star Families, contact Randy Plese: rplese@cox.net