Casper aviation platoon Casper Platoon Story

Caspers in the News
By Ned Costa, Casper Crew Chief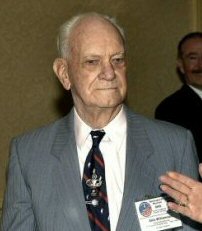 Major General Named Honorary Casper
CRYSTAL CITY, DC (2005) - In a very special ceremony held this summer in Washington, DC -- Major General Ellis Williamson (Ret) was made an Honorary CAPO Member. Presenting him with the honors were Casper Members: Don Bliss, Bill Fielding and Lance Quesenberry. Also present were: Roy Lombardo, a Company Commander in 2d Bn and his wife, Lois Bliss, Ken Smith, the former President of the Society of the 173d Airborne Brigade (Sep) and Mrs. Williamson and their daughter Nan. As you recall, General Williamson was the Commanding General of the173d Airborne Brigade from 1963 to 1966. Don Bliss was Casper Platoon's first Commanding Officer and arrived in-country with the Herd in May 1965.
It was also an honor earlier this year to have had General Williamson and his wife as our special guests at the Casper Aviation Platoon Reunion. Following the banquet, the CAPO Board of Directors and Executive Officers all agreed to make General Williamson an Honorary Member.
General Ellis Williamson: DAT.
This site was last updated: 2/15/15
HOME PAGE
BACK TO THE STORY INDEX