Casper aviation platoon Casper Platoon Story

Caspers in the News
By Ned Costa, Casper Crew Chief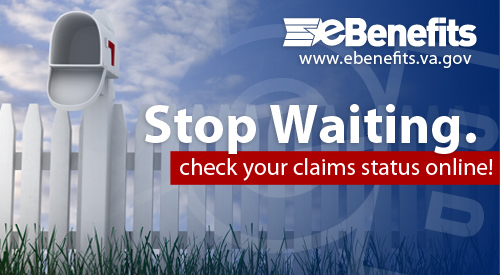 How To Check Your VA Disability Claim Status Yourself
Information (2015) - Casper Crew Chief Ed Liptrap shared some very good information with me on "How you can check your own VA Claim Status online."
If you have filed a recent VA disability claim and would like to know what phase your claim is in – you can do it yourself right now! Just then follow these instructions below.
Thanks Ed for the information!
STEPS:
Go to: www.ebenefits.va.gov

On the eBenefits web page, you will see a full menu showing many different VA information links. Notice there is a "P" symbol that follows some of the links. This means "Premium" and requires you to logon to access this information.

Under the "Manage Benefits" heading is the "Compensation & Pension Claim Status" link, but notice the the "P" symbol. You will have to register for a "DS Logon" account.

Click on the "Registration" link. You will have to identify yourself as a "Veteran" (choice #3 Other). Fill-in your information and to help identify yourself as you, they will ask for your authorization to gain access your IRS information. Why, because they will ask you 4 question that only you would know. You will have to answer all 4 multiple choice questions correctly to receive the logon User Name and Password needed to gain entrance to your claim status. You will only get to chances to answer them correctly. The type of questions that I was asked were like: "What bank do I pay my mortgage at" and "How much is your mortgage payment." Each question has 4 possible answers.

If you answer all 4 questions correctly, they assign you a user name and you create a password.

Now you can click on the: "Compensation & Pension Claim Status" link. Once in, you will see your "Claim Status Process." There are "8 Phases" and your status will be identified. They are:
Claim Received

Under Review

Gathering Evidence

Review Of Evidence

Preparation For Decision

Pending Decision Approval

Preparation For Notification

Complete
There is other very useful VA information links also on the web page. I hope this information will be helpful to you.
Ed Liptrap: edliptrap@gmail.com
This site was last updated: 2/15/15
HOME PAGE
BACK TO THE STORY INDEX