Casper aviation platoon Casper Platoon Story

Caspers in the News
By Zelner Houchin, Casper Crew Chief

Special Casper Reunion After 40 Years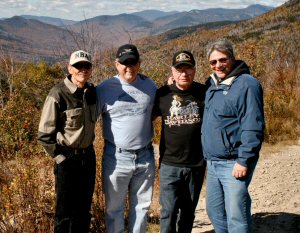 Lincoln, NH (Oct 2008) - Caspers Dennis Bradley, George Kenney, Michael Del Monaco and Zelner Houchin all met at the Beacon Resort in the White Mountains of New Hampshire to view the fall foliage change. We all had our wives with us and had a wonderful time during our reunion.
This was the first time that any of us had seen Mike Del Monaco since our tour in Vietnam (40 years ago). This was a special time for all of us as we enjoyed sharing many stories and the time together.
(Left photo) Dennis, Zelner, George and Mike.
George Kenney was a Casper Crew Chief from 3/66-11/67. Zelner Houchin was a Casper Crew Chief from 4/66-12/67. Mike Del Monaco was a Casper Mechanic & Door Gunner from 9/66-9/67. Dennis Bradley was a Casper Crew Chief from 9/66-12/67. All 4 men served at Bien Hoa & Dak To.




Dennis Bradley Zelner Houchin George Kenney Mike Del Monaco
This site was last updated: 2/15/15
HOME PAGE
BACK TO THE STORY INDEX