Casper aviation platoon Casper Platoon Story

Plucking Troops From A Hot LZ

This site was last updated: 2/15/15
HOME PAGE
Reprint from:
SKY SOLDIER - Time Life Books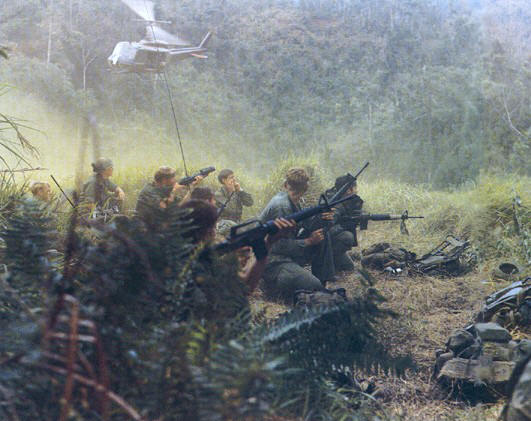 A Casper Platoon Huey crew prepares to extract a team of 173d Airborne Brigade Sky Soldiers from an extremely Hot LZ.
A Casper Platoon UH-1 Huey, its door gunner firing at a well-concealed enemy, prepares to extract troops of the 173d Airborne Brigade pinned down near the Ai Loa River in the Binh Dinh Province on March 29, 1970.
With circling gunships providing support from above, Sky Soldiers return VC sniper fire and Casper completes the extraction. Such rescue missions were frequent, necessary and fraught with danger.
Troop-carrying Huey "Slicks" often had to descend into determined VC & NVA fire to pluck the stranded soldiers from their predicament. Often these missions succeeded, with largely inconsequential damage to the helicopters. At other times, the toll on the choppers was a heavy one.
Photo Credit: National Archives (negative7680) #11C6