HOTEL AMENITIES
ALL our guests will enjoy a 2-Room Suite during their stay at the Embassy Suites Downtown Hotel and get a FREE Breakfast (fully cooked-to-order) every morning, plus a FREE Cocktail Reception (2-drinks) every evening. Includes beer, wine, spirits and hors d'oeuvres.
We will have our own meeting room to use as our Hospitality Room each day of the reunion. There we will have our Ice Breaker Party on the first night.
On our last day of the reunion, we will have a Texas BBQ Buffet Luncheon, along with a cash bar inside of the hotel atrium for everyone in our group to enjoy together.
Flat Reunion Fee Cost
Our Reunion Fees includes a Name Badge, access to our Hospitality Room, all of the Hotel Amenities, and one (1) Texas Style BBQ Buffet Luncheon Ticket, along with another chance to see and visit with your buddies!
Reunion Fee: $150/per person.
Payment Deadline: February 1, 2024. No refunds after December 31, 2023.
Other Events: The Frontiers of Flight Museum & Lunch (Dallas).
Chartered Bus Fee (optional): $25/per person. Round-trip Transportation to Dallas for our Tuesday 3/19 Museum & Lunch Event (seats is limited to 56). Seating Reservations must be paid for in advance. YES – Chartered Bus Ride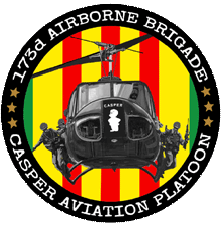 Veterans who are planning to attend are listed below by their HERD unit: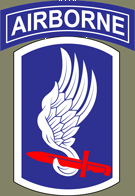 Gordy Anderson
Pilot
Gary Berdon
Avionics
Tony Bolivar
Pilot
Ron Branson
Crew Chief / Gunner
Sonny Caughlin
Crew Chief / Gunner
Joe Cole
Pilot
Ned Costa
Crew Chief / Gunner
Michael Dow
Door Gunner
Bob Durand
Pilot
John Equivel
Crew Chief / Gunner
Mike Gauntt
Pilot
Steve Greene
Pilot
Terry Hanks
Crew Chief / Gunner
George Heard
Pilot
Paul Heyer
Pilot
Robert Horowitz
Pilot
Tom Huffman
Crew Chief / Gunner
Bob Jameson
Crew Chief / Gunner
Jim Jeffryes
Pilot
Neil Kimerer
Crew Chief / Gunner
Bill Krueger
Crew Chief / Gunner
Tex Ladnier
Door Gunner
Robert McDonald
Crew Chief / Gunner
Don McKeough
Pilot
Chuck Merkel
Pilot
Bruce Neva
Crew Chief / Gunner
Terry Lee Parker
Avionics
Tomas Rendon
Crew Chief / Gunner
Steve Richard
Crew Chief / Gunner
Don Sholett
Crew Chief / Gunner
Bruce Silvey
Pilot
Tony Simmons
TOC Specialist
Rick Smith
Door Gunner
Sal Sosa
Crew Chief / Gunner
Stephen Spraque
Crew Chief / Gunner
Bob Thackston
Crew Chief / Gunner
Ken Thibodeaux
Crew Chief / Gunner
Bill Wansing
Crew Chief / Gunner
Cliff White
Pilot
Dave Woodard
Crew Chief / Gunner
___
39

173d Airborne Brigade:
HHC/Casper Platoon

173d Airborne Brigade:
Infantry
James Chin
Artillery Surveyor
A/319th Field Artillery
Roscoe Heyman
Rifleman
A/3/503d Infantry
Jim Jenkins
Rifleman
A/3/503d Infantry
Rusty Kulp
Rifleman
HHC/1/503d Infantry
Rene Macare
Sniper
A/3/503d Infantry
John Schulte
4-Deuce Motar Platoon
HHC/1/503d Infantry
Tim Shook
Combat Medic
A/1/503d Infantry
___
7

173d Airborne Brigade:
LRRP/LRP/RANGER
Donny & Leslie
Kidd, Jr.
KIA: Donny Kidd, Sr.
Marilyn Jones
Wife
DAT: Joe Jones

LaRue Terry
Wife
DAT: Jerry Terry
Tom & Denise Terry
Son & Daughter-in-law
DAT: Jerry Terry
___
5

Casper Platoon Challenge Coin
$10/per coin
Our latest coin design challenge coin was reproduced for the 2020 reunion.
(No Mail Orders)
You can purchase your coins in advance now and pick them up ONLY at the reunion. For information contact:
Steve Greene
In Stock

Our Mission
Casper Aviation Platoon (CAPO) sponsored reunions are designed to provide a good time for ALL of the Caspers, affiliate Veterans, their family and friends. Click below & let us know if you will be joining us in Fort Worth: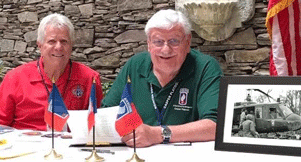 Who Can Attend Our Reunion
Besides the Casper Aviation Platoon Veterans, all other affiliated Vietnam Veterans that were members of the: 173d Airborne Brigade (1/503, 2/503, 3/503, 4/503) and various HHC and support Battalions, N/75th RANGER/LRRP, 335th AHC "Cowboys" and the 61st AHC "Lucky Star" are also invited.
Casper Aviation Platoon REUNION 2024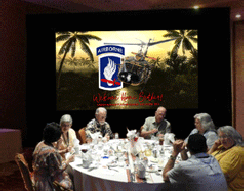 LZ: FORT WORTH
March 18, 19 & 20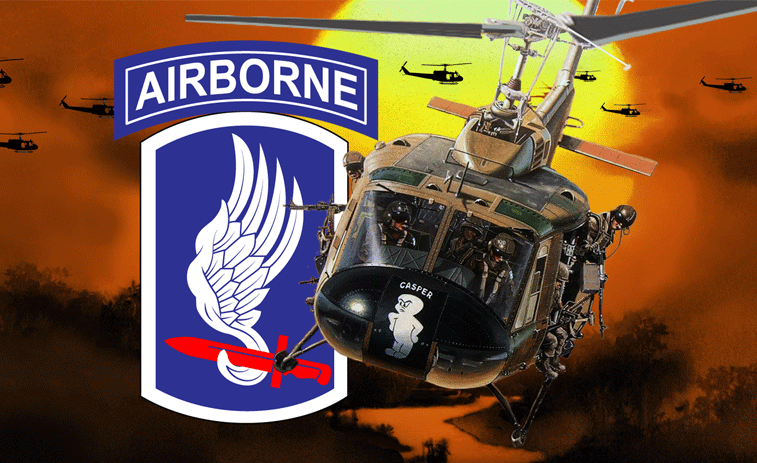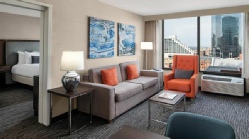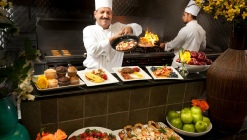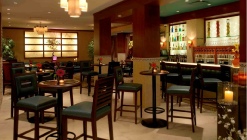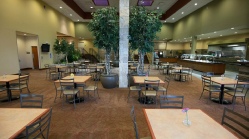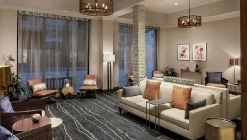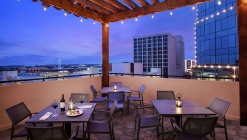 ROOM RESERVATIONS
Our 3-day Reunion Dates are: March 18 thru March 20 Check-out is: March 21. However, our special Casper Platoon Room Rate can also be used to check-in early on Sunday, March 17 (most of our guests do). Come and enjoy yourself, relax and have fun with your family, friends and war buddies!
►►Special Online Booking Link below is the best and easiest way to reserve your suite. Just click:
https://www.hilton.com/en/attend-my-event/casperaviationplatoon2024/
The Sunday, March 17 date will automatically appear as your check-in arrival date. However, you can change/edit your arrival date during this process. However, most will want to arrive earlier to spend more time in Fort Worth.
Telephone Reservation: (817) 332-6900 or (817) 200-2870 · You must identify yourself with our group: "Casper Platoon Reunion" to get our special rate. Our Group Code is: CAS.
Reservation Deadline: February 16, 2023 to get our special guest room rate + tax (reservations are based on room availability).
Hotel Parking & Airport Transportation
There is no self-parking available at the hotel. Casper Platoon guests who drive will receive a discounted valet parking rate of $22/day (reg. $32) at the Embassy Suites Downtown Fort Worth hotel.
Hotel Shuttle: The hotel does not have a hotel shuttle. But there are a variety of shuttle/limousine $$ services available at Dallas Fort Worth International Airport or from Love Field Airport. There are also $$ Taxi and UBER rides available.
Street Address: 600 Commerce Street, Fort Worth, TX 76102, USA.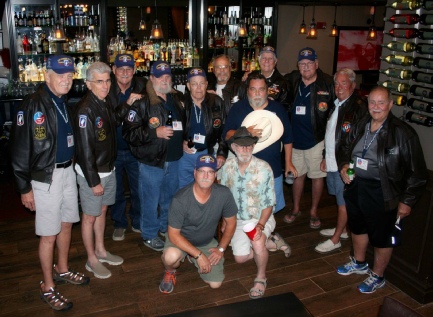 HOME PAGE

AT A GLANCE
The Embassy Suites Downtown Fort Worth is an all-suite hotel located in the heart of downtown Fort Worth and only one block away from Sundance Square Plaza. There is easy access to more than 30+ restaurants and bars within a short walking distance of the hotel. There is also a lot of indoor and outdoor lounge seating inside of the hotel to meet, eat, drink, etc. There is also a FW Metro bus stop nearby the hotel that can take you all over town including the Fort Worth Stockyards and much more.
BOOK NOW! The rooms are limited to availability!
Special 2-Room Suite Rate: $189/night (reg.$239)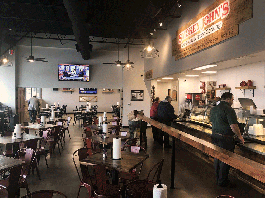 >> Our chartered bus will arrive at Smokey's at around 11:15 am. If you are driving your own vehicle, you can follow the bus from the hotel or meet our group at the restaurant. We will leave Smokey's at 12:30 pm and should arrive at The Frontiers of Flight Museum at 1:00 pm. We'll stay at the museum until 3:15 pm and should arrive back at the hotel at 4:00 pm.

1820 West Mockingbird Lane, Dallas, Texas 75235
For over 40 years, Smokey John's Bar-B-Que & Home Cooking has been serving up hearty, Texas-style portions of traditional hickory-smoked BBQ. The restaurant is located in the heart of Dallas and has established a well-known reputation for providing fast and friendly service with a knack for true Texas hospitality. From pork ribs or hot links to fried catfish or brisket or chicken, and offer a wide variety of some of your Southern BBQ favorites.


THE FRONTIERS OF FLIGHT MUSEUM
6911 Lemmon Avenue, Dallas, Texas 75209
Texas' Premier Aviation & Space Museum is a Smithsonia Affiliate with more than 40 air and space vehicles. 20 galleries and displays, from Dreamers to Space Flight and over 35,000 historical artifacts.
The Frontiers of Flight Museum aircraft gallery contains examples of flight from the Wright Brothers to modern jetaircraft. Many of the aircraft are rare one-of-a-kind survivors or unique replicas, including a Apollo 7 Command Module and a Sputnik 1 (replica). Also on display are missles, powerplants and a few Army Helicopters.
The admission to the museum is $8.00/per person.
CHARTERED BUS TRANSPORTATION (optional)
Several of you may have vehicles at the reunion. However, we have also rented a 56-seat chartered bus for the round-trip. Cost: $25/per person (seats are limited).
On the way to the museum, we'll stop for lunch (pay your own) at Smokey John's BBQ Restaurant in Dallas.
Our Chartered Bus will leave the hotel at 10:15 am and arrive at Smokey John's BBQ Restaurant for our lunch break at around 11:00 am before heading to the museum (see restaurant information below).


Some Of The Fun Things To See & Do In DALLAS & FORT WORTH
The Embassy Suites Downtown Fort Worth is our reunion base and where our Reunion Cocktail Receptions, Buffet Luncheon and Hospitality Room will be held/located. There is also a lot of FREE time during our reunion for you, your family and buddies to explore fun things to do in Dallas and Fort Worth.
Sundance Square
Shopping & Entertainment
Located 1 block from our hotel, Sundance Square is the name of this 35-block commercial, residential, entertainment and retail district in downtown Fort Worth, Texas. Named after the Sundance Kid in western folklore, it is a popular place for nightlife and entertainment in Fort Worth. The area includes numerous hotels, restaurants, bars, shops, museums, clubs, movie theatres, performing arts, and venues throughout the year. There are a lot of things to do throughout this area.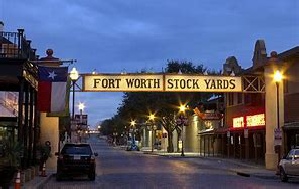 Fort Worth Stockyards
Attractions · Shopping · Entertainment · Dining
Located 3 miles from our hotel and you can ride The Molly Trolley to get you there.
The Fort Worth Stockyards consists of mainly entertainment and shopping venues that capitalize on the "Cowtown" image of Fort Worth. Home to the famous Boot Making, fine Western Wear and a Saloon where customers "can "belly up" to the bar, relax and have a cold beer while in the Stockyards; just like they did in the days of the big cattle drives", as they shop around the store. The city of Fort Worth is often referred to as "Where the West Begins." Whatever kind of entertainment you're looking for, there are plenty of ways to cut loose at the Stockyards. Take a train ride, catch a shootout show, explore our museums or enjoy the nightlife at a saloon-style bar.